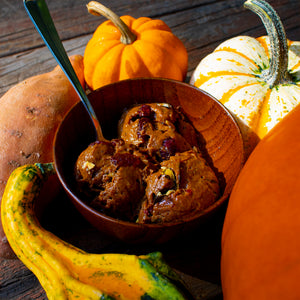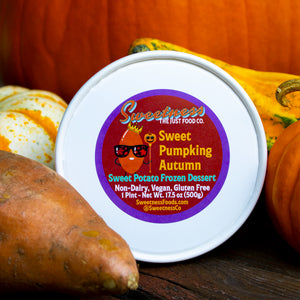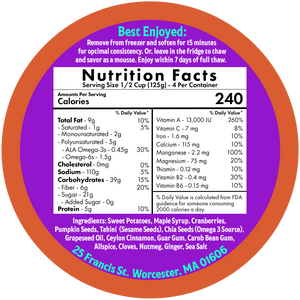 Sweet Pumpking Autumn (002) - Sweet Potato Dessert
Regular price
Sale price
$8.39
---
Order for free home delivery in MA each week and shipping nationally with UPS! Check our 
delivery
 page for the most up-to-date info!
Sweet Pumpking Autumn:

We all thought that the Pumpkin Spice Latte had mastered fall, but this new Sweet Potato challenger had other ideas. It inspired it's underappreciated #FallThings foods family, uniting the cranberries, the maple syrup, real pumpkin seeds, and our favorite spice varieties that create the flavor of pumpkin spice: allspice, nutmeg, cloves, ginger, and cinnamon. United for a truly autumnal and aromatic flavor, Sweet Pumpking Autumn is here for good.

Ingredients:

Sweet Potatoes, Maple Syrup, Cranberries, Pumpkin Seeds, Tahini (Sesame Seeds), Chia Seeds (Omega 3 Source), Grapeseed Oil, Ceylon Cinnamon, Guar Gum, Carob Bean Gum, Allspice, Cloves, Nutmeg, Ginger, Sea Salt
Locally Sourced:
Our two biggest ingredients are from right here in MA, and we're working on pulling more as close to our Worcester production as possible! Our Sweet Potatoes are grown at Four Rex Farm in Hadley, Massachusetts, and our Maple Syrup is harvested and processed at Pure BS Maple Shack just down I-290 in Auburn, MA.

Community Impact:
Through October 4,
we're supporting the Urban Farming Institute of Boston
to support hunger relief locally as part of the Three Squares New England Virtual Ride for Food, in support of our founder Will Hansen's fundraising efforts. We are donating $1 from each pint sold, donating all tips, then matching that tip amount as a donation to double your impact, and also matching all direct donations made on the fundraising page. In our year-round spirit of harvest celebration, when you eat, and when I eat, we should all eat, and do so rich in nutrition and without worry about our next meal. What's sweeter than that?

Flavor Pairings:

The air is crisp, leaves are starting to fall. You pull out a pint of Sweet Pumpking Autumn, but something's missing... so you make a warm apple cider, visit "
Pairings
"  and all is right as you hear the first notes of Nat King Cole's "Autumn Leaves" playing.
For You and the Planet:

This is not a low-calorie food; it is rich in nutrition! Keep regular exercise a part of your routine; practice a physical activity you enjoy! We choose our real-food ingredients for resilience. For your health and for our natural ecosystems. Our pints for Sweet Pumpking Autumn are now compostable! Remove stickers to return to us at your next delivery or pickup, or with your local composting pickup if they accept BPI certified PLA.
Delivery or Pickup:
Place an order, get it delivered for free! It's that simple, we'll be in contact within 24 hours after you place your order to coordinate a good time to make the delivery. In an effort to reduce carbon emissions from delivery and to save time as a small (currently one person) team, most deliveries will take place on Sundays to allow multiple deliveries in one trip. If there's another opportunity on a different day, though, we'll be sure to coordinate with you! You can also pre-order for pickup at a market where we'll be popping up, or from the Worcester Regional Food Hub if you're local, and those markets will be made known as far in advance as possible.